Education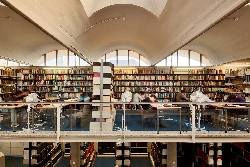 The most effective method of transferring and strengthening knowledge depends upon students, who have the potential to process and apply new information in original ways. Climate-KIC seeks to bring out the potential of these students who will lead the future of climate research, policy, and entrepreneurship.
One of the main goals of Climate-KIC is to build up a European multidisciplinary network of student innovators that will become a quickly growing independent community.
Climate-KIC Summer School The Journey 2014
What is The Journey?
The Journey is a five week Climate-KIC Summer School which is certified by the European Institute of Innovation and Technology (EIT).
During the Summer School you will work on your business ideas about climate change mitigation and adaptation in international and interdisciplinary teams supported by the European climate experts. You will present your business idea in a competition in the last phase of The Journey.
The Journey is hosted at three different European locations from our partner network in Denmark, France, Germany, Hungary, the Netherlands, Spain, Poland, Great Britain and Switzerland. You can choose between two time periods: 6 July - 9 August 2014 or 3 August - 6 September 2014.
One- or two-day introduction workshop will take place before the Summer School.
Who can apply?
The programme is for students (with at least a bachelor degree) and young professionals (graduated recently) with no age limits. There is no participation fee but you will have to pay your travel costs to the starting location of the summer school and back home from the last location. Occasionally, you will also have to pay for your own food and beverages.
How to apply?
Please send your application, curriculum vitae, copies of your relevant certificates / degrees and a letter of recommendation to: education@climate-kic.org. If you have any questions, please contact Julia Milbredt.
Application deadline: 1 April 2014
Further information:
Flyer, Climate-KIC Website: http://www.climate-kic.org/for-students/summer-school/
Contact:
Julia Milbredt: julia.milbredt@uni-kassel.de, tel.: +49 (0) 561 804 7286
Professional Education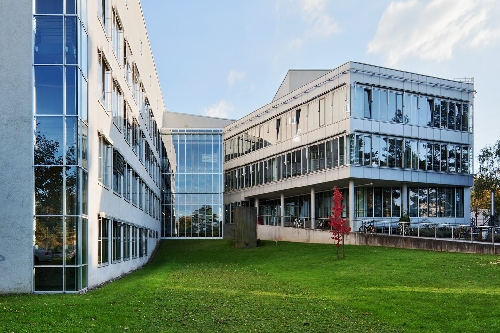 Materials Science building, TU Darmstadt (Photo: Thomas Ott/TU Darmstadt)
This programme is offered to executives, managers and employees in business and government to help deepen understanding of climate change and how it applies to your workplace. The goals of this programme are to:
Explore the issues in a peer community and develop responses to them using a range of accredited and non-accredited modules.
Establish and maintain the highest standards of sustainable practice in Europe and beyond.
Design tailored climate change solutions in focus groups, in workshops, and at thought-leadership retreats.
Customise your participation via a range of time-sensitive options, including short courses, e-learning and learning in the workplace.
The professional education programme is offered through a variety of Climate-KIC short courses that focus on the basics of climate change, economic impacts, adaptation strategies, and more. Through our programmes you will learn about corporate and social responsibility for the climate and a range of new and innovative options for a low-carbon sustainable future. Content is delivered in a non-scientific way and is interspersed with interactive debates and case studies from industry.
Climate-KIC short courses run over a two day period in various locations across Europe including France, Germany, Netherlands, Switzerland, Spain, Italy, UK and Poland.
For large corporations, Climate-KIC professional education is also able to offer customised solutions to meet a specific set of learning and development objectives, through expertise in climate change content and education media such as VLE's, webinar, interactive video, DVD, podcast, community forums and blended learning solutions.
For more information visit Climate-KIC for Students and Climate-KIC for Entrepreneurs.
Contact:
Christoph Auch
Tel.: +49 (0)69 305 25746
E-Mail: christoph.auch@provadis-hochschule.de
or
Kirsten Löw-Knower
Tel.: +49 (0)69 305 7349
E-Mail: kirsten.loew-knower@provadis-hochschule.de
Master's Programme: M.Sc. Energy Science and Engineering
TU Darmstadt Energy Center
Developing new technologies for sustainable energy sources is an interdisciplinary task, which requires excellence in both classical engineering and natural sciences.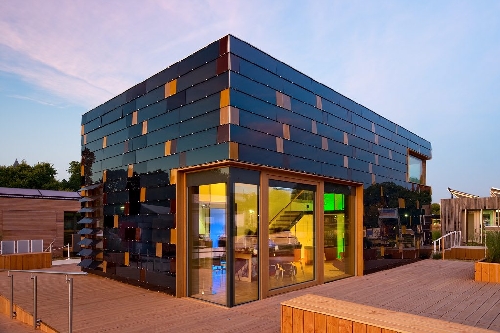 The interdisciplinary Master's programme in Energy Science and Engineering, which began in the Winter Semester 2012-2013, offers a specialization with a strong focus on energy. The programme accounts for renewable energy technologies as well as the efficient usage of conventional energy sources. At TU Darmstadt, many traditional subjects in the natural sciences are integrated into this interdisciplinary programme.
Solar Decathlon House, TU Darmstadt
(Foto: Thomas Ott/TU Darmstadt)
Successful graduates of the programme will be technically versatile and will be able to independently tackle barriers in research, industry, and management. In many cases, graduates are likely to find a job with applicability in the German Energy Transition (Energiewende).
Information about M.Sc. "Energy Science and Engineering"
Contact:
Coordinator of the Programme in Energy Science and Engineering
Dr. Sonja Laubach
Tel.: +49 (0)6151 16 75893
E-Mail: laubach@matgeo.tu-darmstadt.de
Darmstadt Graduate School of Energy Science & Engineering
TU Darmstadt Energy Center
The mission of the Darmstadt Graduate School of Energy Science and Engineering is to educate tomorrow's leading Energy Engineers in a multidisciplinary field of expertise needed to identify and master the most demanding scientific, engineering, economic and social challenges in an interdisciplinary approach. The graduate school, which grants a Ph.D., is a continuation of the goals of the Master's programme in Energy Science and Engineering at TU Darmstadt, but it allows the students to expand their knowledge and independence in the field of energy research and opens the door for entrance into a career in cutting-edge energy innovation. The main challenge is viewed to be a continuous transition from the carbon-based, non-renewable primary energy sources of today to renewable and environmentally friendly energy resources of tomorrow.
The Graduate School is constantly globalizing and expanding its vision, attracting a diverse profile of students from abroad, bringing together professors and researchers of various backgrounds, and allowing opportunities for industry and educational exchange. The School will represent the educational part of the TU Darmstadt Energy Center. The comprehensive expertise on energy topics in different departments at the TU Darmstadt will be united in a combined effort to offer programmes of interdisciplinary education and research. Four Energy Technology Integration Platforms - will be established within the Graduate School as main interdisciplinary research areas:
Solar fuels
Building integration and energy self-sustaining urban settlements,
Smart energy networks and
Flexible energy converters with low CO2 emissions
The educational programme consists of a Preparation Phase, equivalent to a Master's course, and a PhD Research Phase, involving a novel interdisciplinary curriculum. The standard entry requirement for the Graduate School is the Bachelor's Degree, but students with a Master's degree will also be accepted. For more information, please visit the website of the Graduate School of Energy Science and Engineering.
Contact:
Coordinator of the Graduate School of Energy Science and Engineering
Dr. rer. nat. Tanja Drobek
Tel.: +49 (0)6151 16 64233
E-Mail: drobek@energycenter.tu-darmstadt.de
Pioneers into Practice Programme
Both employees and students have the opportunity to participate in the Pioneers into Practice Programme. More information can be found here.